The Under 17 Pathfinder Programme
Paul Silverwood, the Director of The Pathfinder Programme, gave a very interesting talk on Monday 2nd November about The Under 17 Car Club in general and the Pathfinder Programme in particular.
The Pathfinder Course. What is it?
Pathfinder is a part of The Under 17 Car Club Charitable Trust (U17CC).  Pathfinder was created to give practical advice and experience to young people.   It adopts the principles and methodology of the U17CC trust to give a five day intensive road safety and driving course to 'rising 17s' and their parents (or responsible adult). The course is ideally delivered to groups of 36 students at a time due to the high cost of hiring venues and the numbers of volunteers available.
Course Details
The students use their parent's vehicle which is preferably a manual four seater and the kindly parent is a passenger, willing or not, for most of the course.
The cost is just £170.00 for the week.  There is a bursary available for those not able to meet the fee.  The course is usually held on an airfield i.e. totally off road as the students do not have licences.  The system is built on trust.  The initial talk sets out the basis of the week.  Students start at Level 5, the encouragement grade, with no knowledge assumed.  As trust, knowledge and skills grow in the individual students they are given more responsibilities when they show they have earned them.  If the trust is broken then a student can be removed from the course without refund.  It is a good reflection on the course that this action has never had to be used.  The parents are very willing participants to enable their children to be safer drivers.
Each day includes several tests on the knowledge gained.  Parents were asked to take the first test along with the students which caused some interest as this highlighted ordinary driver's skill sets.   Many parents admitting that they had gained new skills!
Course Content
Core driving skills
Theory tests
Risk awareness and management
Attitude development
Brake & avoid
Speed awareness
Handling peer pressure
Highway Code
Vehicle safety checks
Close manoeuvring
Van & lorry driving experience
The course content is a cut down version of the Under 17 Journey which is shown below.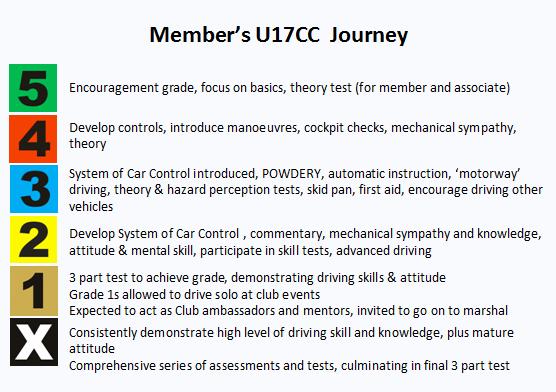 Where?
Stonelea NAC Warwickshire
Long Marston Airfield
Car Park at Cheltenham Racecourse
Throckmorton Airfield Worcestershire
When?
Autumn half term (late October)
Easter holidays (April)?
Early summer (July)?
Course Benefits
Early statistics have shown that after the course the RTC rate (Road Traffic Collisions) reduces from 1 in 5 to 1 in 17 for the first year.  So on this basis alone the course is very valuable.  Feedback from parents on how it has helped their kids and their own driving skills shows The Pathfinder course deserves much wider take-up.
After the talk there was some lively discussion and it was hoped that we as an organisation could do more to help this laudable enterprise.
It was mentioned how parents try their best to protect their children but of course teenagers tend to find parents their worst teachers.  Similarly parents' driving styles can be very bad role models.  They wish to help their children but unwittingly can promote risky behaviours as many will not have had any tuition since passing their driving test.
One of the talks in the programme was about how to sentence a young driver after causing a fatal collision.  The police stated the maximum and minimum sentences available.  Not withstanding this a few mothers on the course suggested hanging drawing and quartering twice was about right, whereas some fathers may have thought a suspended sentence would be more appropriate.  Lively discussions ensued as well as what the students thought.
Statistics show how young drivers are very at risk at the following points:
- When out with their peer groups and at night. 
- That young female drivers tend to have fewer collisions than their male counterparts, but chillingly, a girl is most at risk when being driven by her boyfriend who is trying to show off.
Summary
The programme is subsidised by Gloucestershire's Police and Crime Commissioner and supported by Gloucestershire Road Safety Partnership and IAM observers. Sadly, Wiltshire Police and our crime commissioner have shown little interest, possibly because of the re-organisation with Avon and Somerset and Gloucestershire.  As the students progress and pass their driving test, they are invited to join Advanced Motoring Schemes.  The advice is agnostic but clearly, as The U17 CC has IAM observers, more input from RoADAR, which would be welcomed, would assist us in attracting younger members.  The system used is well packaged and could be exported to other geographical areas.  The trust would be glad to assist in making the system available to other groups.   
Winston Castle