Dates For Your Diary

Monday 9th November
7:15pm for 7:45
Meeting: Paul Silverwood from the
Under 17 Car Club
will be speaking about their activities training young drivers below the age of 17.
Monday 14th December


7:15pm for 7:45
Meeting: Eddie Ruskin will be talking about driving following a stroke. Eddie was a a member of the group and training for his advanced test when he was unfortunate enough to suffer a stroke. He has now re-started his training in a car adapted to his needs.
Friday 22nd January
7:30
Annual Christmas meal at the Village Inn in Liddington. See below for the menu and booking details.

Monthly Ride-Outs
Remember that monthly Bike Ride-Outs take place on the 3rd Saturday of every month. 

Monthly meetings are all held at Liddington Village Hall opposite the church.
Do you have a topic you would like discussed, or know of an interesting speaker?  Please contact Monica!
Welcome to the following members who have all recently joined the group:

Ben Rivers (Bike)
Congratulations to the following members who have all recently passed their tests:
Lesley Holdship (Car - Gold); Tutored by Monica Graham
Nikki Jones (Bike - Silver); Tutored by John Mckellar
David Pooke car re-test Gold
Robin Jackson car re-test Silver.
Don't forget that we have a range of clothing available to purchase. 
We also offer a range of books, such as Roadcraft, Motorcycle Roadcraft and the Highway Code, and these are available at discounted prices.

For more information visit the Merchandise page of our web site at www.wiltshireroadar.co.uk.
We are always looking for more articles, ideas and news for the newsletter. Have you been somewhere interesting recently that would make a good story? If you attend any group events then take a camera and send us your pictures!
Please forward all contributions to
newsletter@wiltshireroadar.co.uk
We're now on
Facebook
AND
Twitter!
Membership Renewal Reminder
There are a few renewals still outstanding. If you received a renewal email before the AGM, and haven't yet renewed, please contact Monica. We'd hate to lose you!

Thank you. 
Your Committee for 2015-2016
The following were elected to the committee for 2015-2016 at the AGM on October 12th:
Stephen Izatt - Chairman
Mary Southgate - Hon. Secretary
Monica Graham - Membership Secretary (also Car section co-ordinator)
Mike Southgate - Hon. Treasurer
Nick Carrington - Car training officer (Bike training officer vacant at present)
John McKellar - Bike section co-ordinator
Winston Castle, Bob Fram, Gary Franks, Peter Genet, Louise Hall, Mark Sealey - committee members
AGM speaker - Tony Wilkes, Severn Freewheelers
Tony is a member of this group who decided that he wanted to put the skills he had learned with Wiltshire RoADAR to real and effective use. He joined the Severn Freewheelers and is now a trustee, secretary and the compliance officer.
Severn Freewheelers is a secure courier service with over one hundred riders delivering urgent medical supplies between hospitals, path labs, blood/breast milk banks, hospices, care homes and private homes in the North Wilts, Hereford, Worcester and Gloucester areas. They ride 365 days a year doing an out-of-hours shift, 7pm – 7am and all weekend. Riders need to have at least silver standard RoSPA passes or equivalent IAM and a clean licence. The motorcycles used are police specification BMWs with police style livery and the riders are blue-light trained, 7FW being part of the blue-light user group. In 2015 the bikes passed the 1,000,000 mile mark covering over 25,000 deliveries. Call-outs are graded by urgency, first priority being blood supplies, breast milk supplies and path lab requests, all of which are potentially life- saving. Second priority are routine, and of the call outs 4-5% are blue-light.
Each rider takes a shift, usually Wednesday 7pm until Saturday 7pm, and Saturday 7pm until Wednesday 7am however 7FW try to accommodate riders and if they are only able to ride part of a shift there are often other riders who will step in to help out. It is the decision of the rider whether he/she feels it is safe to ride in times of inclement weather in collaboration with the co-ordinator who has the rider's welfare as priority. Co-ordinators work from home, allocating call-outs and with the aid of computer software ensuring that the riders are not sent out of their way making most efficient use of their time. They are aware of the number of rides made and the hours spent in the saddle, advising riders when to take breaks.
The cost of keeping Severn Freewheelers operational is around £60,000 a year, the bikes can do about 80,000 miles before they are retired and therefore need changing after two years. The NHS saved over £45,000 in the North Wilts area last year, about £200,000 over the region – 7FW do not ride for private companies.
Staffing is by volunteers, riders, dispatch co-ordinators and events organising. Funds are raised by private donations but primarily by the two main fundraising events each year, Prescott Speed Hill Climb and Shelsley Walsh Bike Festival. Volunteers are always being sought for these three roles.
There is plenty of information on the Severn Freewheelers' website for anyone who would like to know more, or contact can be made through Tony Wilkes who would be more than happy to talk to you about how you can help. Thank you Tony for an inspiring insight into the work of Severn Freewheelers.
Mary Southgate
Change of email addresses
Since we split the roles of Group Hon. Secretary and Membership Secretary at the 2014 AGM, Monica continued using her existing secretary email address, and Mary used a new "info" address.

The time has come to rationalise that and as from today, Mary and Monica will use new addresses as follows:

Mary (Group Hon. Secretary) - secretary@wiltshireroadar.co.uk
Monica (Membership Secretary) - membership@wiltshireroadar.co.uk

Please use these new addresses with immediate effect.

We understand, and expect, that there will be a short bedding-in period while people get used to the change. Mary and Monica will liaise to ensure that your messages get to the right recipient. Thanks for your patience during this time.
Don't forget that all members are welcome to have further training drives/rides with a Tutor before taking their three-yearly re-test. Please contact Monica if you would like to arrange this. Please can you also let Monica know when you take your re-test so that the Group's records can be kept up to date.
The First Aid Course held at Liddington on October 3rd was unfortunately very poorly attended, although useful and enjoyable for those who turned up. Other courses may be run in future. Group members are encouraged to attend one of these, particularly tutors, to give themselves a vital skill that may be called upon at any minute. Details of future courses will be published in the newsletter.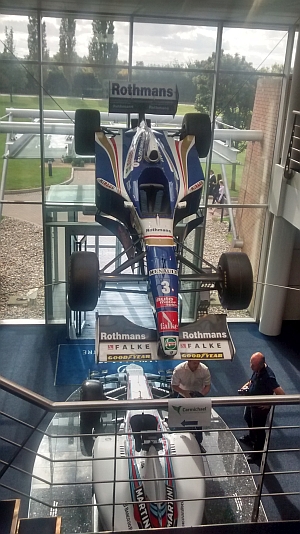 Several group members visited Williams Grand Prix in Grove on Friday 25th September.
We arrived at quarter to ten and met up with other group members and guests in the conference centre and museum building to wait for the tour to start.
The Williams campus is very well kept, and we enjoyed the topiary display of a pit crew changing the tyres on a racing car outside the conference centre - all fashioned from privet. I must mention this to our gardener!
Waiting inside the lobby were two F1 cars. On the floor there was a 2014 Martini liveried car of Valteri Bottas, and hanging above it was a 1997 Jacques Villeneuve car. The guides from Williams explained about the cars to small groups of guests as they moved among us. It was interesting to learn of the engine differences, the suspended 1997 car sported a 3.0 litre Renault V10 engine (around 950 horsepower), and the Martini car a Mercedes 1.6 litre turbo V6, with hybrid technology (around 750 horsepower, with additional power from the hybrid systems available to boost performance in small bursts around each lap).
Once all the guests had assembled we moved through the wall of champions, where there were pictures of all the drivers who had won titles at the helm of Williams cars. We had some background on each of them, which was rather interesting. After this we had a small film presented to us, detailing the background of Williams as a racing team. At the end of the presentation, the screen wall moved back to reveal the museum, filled with the history of the team from the 1970's to the present.
One of the most interesting cars was the FW08B, which was a six wheeled variant of the car that Keke Rosberg won the 1982 world title in. The car had an extra pair of wheels at the back, unlike the more famous Tyrrell P34 that had 4 wheels up front. The staff at the museum said it was around 3 seconds faster than the car it was based on, due to the extra traction the additional wheels gave. Sadly, the FIA banned six wheeled cars from 1983, so it was never raced.
All the cars that won titles were on raised platforms, standing above the other cars. All of them were in pristine condition, and we are told they are all capable of running. In fact I saw one of Nigel Mansell's old 1985/86 cars running up the hill at Goodwood a couple of years ago along with a Damon Hill car from 1996. 
It was interesting to see the progression of the aerodynamics over the years, with the addition of aerodynamic wings, then the ground effects cars (some of which had the front wing deleted as the grip from the side skirts was far more potent) through to the later cars that were festooned with fiddly little winglets to gain every possible advantage. The more recent cars have a far cleaner look, which allows them to run closer to each other and makes the racing far more exciting to watch.
Moving upstairs we had the chance to view a collection of driver's helmets, as well as some car parts and components and design drawings. There was also an older Williams car to sit in (ex Ralf Schumacher/Jenson Button), which was surprisingly comfortable, but gave an insight as to how snug this space was for a driver. No wonder they are all jockeys!
All in all, the morning was very pleasant and informative for a petrol head like me - even my wife enjoyed it. Whilst she is no fan of Formula 1, she appreciated the engineering that went in to producing these cars and making them competitive. We were well looked after by the staff, and they explained about some of the offshoot technologies that have come out of the racing, such as the hybrid power technologies that Williams had developed in recent years. They also had a film star in the lobby of the building next door, a Jaguar C-X75, which is the villain's car in the upcoming Bond film "Spectre". This car was developed by Williams in conjunction with Jaguar.
As the morning drew to a close, we were told of the option to attend the centre during a race weekend, where we could enjoy the race, with refreshments and a live hook-up with the race team at the track. I will be watching the diary for the events in 2016!
Many thanks to Monica for arranging the trip, it was an excellent experience.
Gary Franks
Banger run for Heroes - destination: Venice
After our successful foray into Banger Runs last year, Robin and I decided to have another go in 2015, but with a more ambitious car. The 2015 run we signed up for was in aid of the RAF Association, and would go from Dover to Venice, visiting war memorials on the way.

We picked up our 2.0 Ford Cougar for £300 in February, and after a fair bit of welding and a new tyre we got her MOT'd.

From this point we had several electrical gremlins to oust - driver's window motor and mirror were replaced, and we still have an intermittent issue with the heater/blower. We then set about stripping out the back seats to make room for the kit we planned to fit.

We added double rear wheels and extended the body to cover them. In these side pods we fitted strobe lighting, jet effect speakers and lights and a missile rack. We also fitted batmobile style wings on the sides and one on the top. The whole car was professionally sprayed satin black, and sponsors logos were added in a subdued grey colour. The interior was kitted out with banks of lights, displays and switches for all the effects that we installed, in our best effort to replicate an aircraft cockpit! We have a split charge system so that all the effects are powered separately from the standard car systems.

We took her back to the MOT station to ensure she was still road legal after our modifications. They thought it was crazy, but she still passed inspection!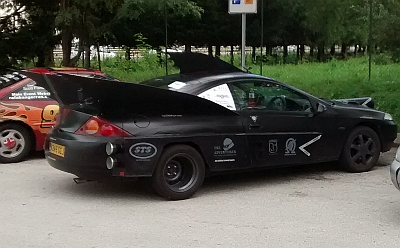 The team's mad car

The Run commenced in Dover on Saturday September 12th. We had met up with the other crews the night before in Folkstone, and in the morning before the ferry we all went to Capel Le Ferne to see the RAF memorial there. At 10:00 we were all waiting to board the DFDS ferry to Dunkirk. Even though it was raining, lots of people came past to take pictures of Jezebel and the other cars as we waited to board.

Once in France we headed in convoy to Ypres in Belgium. We visited the cemetery there, which was a small plot behind some shops. Very quiet and peaceful. We then went to the Menin gate and on to a larger cemetery at Tyne Cot. It was quite moving to see the long lines of headstones, and sobering to think that there are dozens of such cemeteries around Western Europe.

We then headed through Belgium and Luxembourg to the overnight stop in Saarbrucken. Robin and I were waylaid by a local couple who wanted to know all about our trip, so whilst the other crews got some sleep, we were plied with beer and got to bed quite late!

On day two we let the other crews go ahead of us. They headed South East through Germany, past Stuttgart and Augsburg to Dachau where they visited the concentration camp there. As Robin and I had both visited the camp when we lived in Munich, we elected to skip this stop, and after a nice lunch in Munich we trotted down to Salzburg to meet the other crews at the second overnight stop. As we drove south we were overtaken by a convoy of German police vans, the occupants of which were enthusiastically photographing our black beauty as they passed!

Day three saw the crews make the short trip to Berchtesgarten in Austria to the Eagles Nest - which was the retreat of Adolf Hitler. Due to the low cloud the views were denied us, but it was interesting to see the holiday house of a madman! It's now little more than a tea shop.

After the Eagles nest we headed for the mountains proper, climbing up to 2800 metres atop Stelvio for our overnight. The roads were spectacular, with lots of switchbacks and long drops.

The final outward day saw us depart Stelvio for a photo opportunity, where we snapped the cars at the top of the pass with the clouds boiling along the valley below us. We were so high that it took 20 minutes of driving to get down to them. We negotiated the 48 switchbacks on our descent and drove though the hills and valleys past Merano and Bolzano south to Trento, then turned East towards Treviso and on to Venice. We arrived at the camping site early in the afternoon, and after a quick spruce up we all got the bus to the city to mooch around.

Some of us wandered through the city to the Rialto Bridge, where we stopped to eat and have a celebratory beer. From there we went on to Piazza San Marco for ice cream, and taking a Venice river bus headed back to get the bus back to the campsite later in the evening.

On the next day the crews said their goodbyes and headed off. Some had to hurry home for work, one crew wanted to get to a memorial service at the Menin gate on the Thursday. Robin and I headed back to Munich where we met up with one of the other crews for a trip to the Augustiner Bier Garten for some chicken and beer, and some other cultural stops in the city, like the Rathouse in Marienplatz and the Hofbrauhaus.

We planned to head through Germany to the Nurburgring on Thursday, with the idea of doing a lap on the Friday before heading back to the coast. In the event the circuit was not open to the public on Friday, so we could not see if Jezebel was quicker than the 19 minutes we did the previous year in our double decker.Returning to the UK late on the Friday we were home by the small hours of Saturday. We raised nearly £800 and covered 258km getting to Folkestone, plus 1719km on the way to Venice (from Dunkirk), and 1896km on the way back home. A grand total of 3863km (or 2414 miles).

Gary Franks

P.S. We could leave the story there, but there is a further small chapter to disclose. Whilst we consider our car fully road legal, having an MOT and pre run checks made, we were wary of police attention in Europe. They might not understand, or have a sense of humour. We passed countless UK police cars in the weeks before the run, and on our way to the port. In Europe we were waved to by a police cruiser in Munich, and were photographed and waved to by police vans on the road to Salzburg. As we approached the Italian border on the way up to Stelvio, and Austrian police control stopped us. The two policemen were bemused, saying that in Austria they don't allow this kind of thing, but having checked that our papers were in order, they let us carry on. They took several pictures to show their colleagues too! Leaving Venice a police car joined the Autostrada right behind us, but sure enough when they passed slowly by they were grinning and making thumbs up signs - and taking pictures!

However, when we stopped in Adenau near the Nurburgring on Thursday evening another police cruiser passed us by, but the policeman (Oberkomissar Polizei Schmit) took offence to our beauty and impounded her. He wasn't interested in the MOT or the thousands of trouble free kilometres, and other police enthusiasm. His reason was a vague "safety" concern, most specifically over the aerials on the bonnet being a risk to causing injury to anyone we ran over!! No sooner had he seen us, there was a tow truck on site, and they carted her off to the impound yard. All arranged before he had checked our paperwork or spoken to us about the car. As it turns out, he is famous locally. Known as Sherriff Gnadenlos (Merciless) he has a reputation as being on a one man mission to hassle kids on scooters, motorcyclists, foreigners and anybody driving a modified car. Perhaps it's due to the proximity of the Nurburgring and the number of accidents he must have seen. Still, we paid the hundred euros fine and got the car dropped off over the border in Belgium which was 45 minutes away, and continued our journey without further issue. Next year we will probably skirt the Nurburgring, or perhaps all of Germany!
Our traditional Christmas/New Year meal will be taking place during the evening of Friday 22nd January 2016 at The Village Inn, Liddington, near Swindon. All members and their partners are welcome! To book your places please contact Mary (secretary@wiltshireroadar.co.uk) as soon as possible informing her of your menu choices from the following menu. Payment in full must be made by 13th December.
Main Course, Dessert & Coffee £16.95
Add Starters £4.95

Starters:
Melon & Prawn Cocktail
Homemade Butternut Squash & Sweet Potato Soup
Ham Hock Terrine

~~~~~~~~~~~~~~~
Main Courses:
 
Fresh Saddle of Turkey
Stuffing, sausage & bacon

Fresh Salmon
With a Lemon & Dill sauce
Moroccan Lamb Casserole
With apricots, sultanas & Moroccan spices
Topped with flaked almonds 

Homemade Steak & Ale Pie
Chunks of beef cooked with our local 3Bs
Served with roast potatoes & vegetables 

Angus Beef Lasagne
Served with a crisp salad garnish & garlic bread. 

Butternut Squash & Stilton Risotto 
With garlic bread & salad

~~~~~~~~~~~~~~~
Desserts:

Homemade Fruit Crumble
Chocolate Gateau
Ice Cream Sundae
Cheesecake
Homemade Trifle
Fresh fruit salad