COVID Secure Ride Out

We had our first post lockdown Bike rideout on 20 June using the protocols (reproduced below).  Mark Sealey led a lovely tour around the Marlborough Downs for a couple of hours (the maximum time most of our bladders could sustain!).  Starting at the Sally Pussey Inn carpark near Royal Wootton Bassett we stood out as 6 of us arrived and took up much more parking than would normally be taken by motorbikes in order to maintain social distancing.  Lots of loud talking and briefing later we were ready to go; although the pub has set up a coffee and breakfast takeaway in the carpark so at least we were able to have a drink before we set off (this might be why some of us only lasted the 2 hours!!).
 We were able to ride as one group as only 6 bikers took part (the contingency plan was to break into separate groups if there was more than 6 of us).  New hazards appeared due to the lockdown cycling proliferation so there were many cyclists out and a huge variety of experience and competence on show.  They certainly kept us on our toes.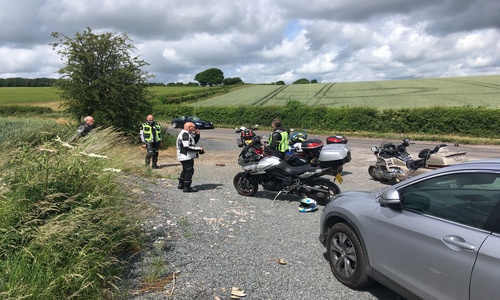 Blessed with good weather and dry roads we enjoyed our short ride and after a socially distanced rest at a random layby (to avoid crowds) we returned home to get on with our chores for the day.
Next ride out will be on 18 July so watch out for the calling email for details – with a bit of luck cafes and loos may be open so we may be able to venture a bit further!
Ride out protocol
Maximum of 6 riders:
Pre booking with the ride leader essential; do not just turn up on the day – first come first served – if more register then we will split into 2 groups
RV to avoid busy spaces where there will be gatherings of people.
All riders to arrive at RV with full tank of petrol and ready for the ride.
Rides to be planned for no longer than 2 hours to prevent the need for rest and fuel stops.  May be longer if cafes and other facilities (toilets) are open -we will review as this happens.
If you want a cup of coffee bring a flask and nibbles for yourself.
Ride to avoid busy beauty spots where there is likely to be lots of traffic. (no venturing into Wales obviously)
Wilts RoADAR Racing - Upate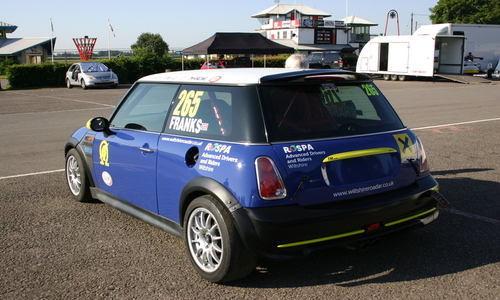 With the easing of lockdown underway, it has now been confirmed that we can start racing from July 4th.
Castle Combe are going to be hosting the first race event in the UK on Saturday, and I will be in two of the races being held on the day! It's going to be quite an occasion.
I recently teamed up with a fellow ADI from my work at Mercedes Benz World at Brooklands. Steve has similar ambitions to me, but was unable to purchase a car for the 2020 season. I offered him seat time in mine, and we will tackle the CSCC (Classic Sports Car Club) "Tin Tops" series at a few circuits around the UK. The first of these dates is Thruxton at the end of July.
In order to prepare Steve we arranged to join the Castle Combe pre-race test on June 25th. Steve and I would split the seat time. He would be able to get familiar with my car, and I would look at laps times and areas of improvement for the races just over a week later.
My wife and I arrived at the track around 8am, Steve and my team manager pulling in just ahead of us.
We made the introductions and unloaded the car and set up our pit area. The first session was scheduled at  9am, and we were in the first group, getting 15 minutes each hour, from the top of each hour through the day.
Steve and I took the car to the scrutineer's bay for a sound test. We got a sticker on the windscreen, and then went to sign on as drivers.
I was going out first, so got "suited and booted" ready for the off. Racers are required to wear Nomex underwear, and a three-layer race suit, as well as gloves, boots and a helmet. Saturday was up to 30 degrees!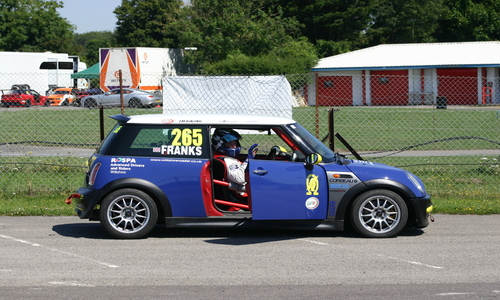 The first session was good, just me and a supercharged Mini on track. Steve went out at 10am with a fair bit more traffic around him, and I was set to go at 11am for session 3, but the F4 cars had ripped up one of the kerbs at the esses. We had to wait nearly an hour for them to fix it. I went back out at 12.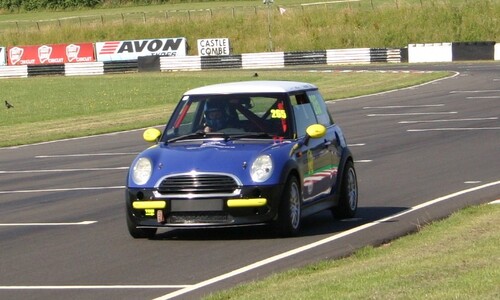 The remaining session were good. Improvements from both drivers, and only an easy spin for Steve near the end of the 3pm session. We opted to let him have the last session at 4pm to make sure he was OK with everything after the spin.
Mistakes are a good way to learn the car and the track.
The car ran without fault. Steve is now familiar with it, and with Tom and me, so we will be ready to go to Thruxton. Hopefully we can test there ahead of the meeting.
I have an idea of what times I need when I race at Combe next week – I need to dig deep for another few seconds to be competitive, but hopefully the other cars around me will help. The main objective though, is to finish without any trouble. I have two races to improve my times and racecraft.
I can't wait!
In the meantime, I have lots of data from my "superdash" and the two video cameras in the car to pore over. Geek's heaven!
 You can follow Gary's progress on Facebook at

@Driven Ohm Racing.
Camping - Might be on again soon!

We had a camping trip organised, to the Black Cock Inn on Exmoor in April. The invite is for all members, car and bikers alike.  We will organise a similar trip later in the year once COVID-19 has passed.

Following a couple of enjoyable camping weekend trips last year, we plan to repeat the exercise using the tried and trusted formula.
Identify a camp site near a pub - it's the law ok!
We have identified a pub with a camp site. Or is that a camp site with a pub? Right on Exmoor's Doorstep, The Black Cock Inn Offers Scenic camping.
Travel down on Friday. Gentlemen or ladies, of leisure can choose to take an extended route on Friday afternoon. It is close enough for the gainfully employed to travel after work.
We'll ride a full day Saturday route/ locations TBD. Sunday we'll pack up and take a scenic route home. Feel free to join for all or just part of the weekend. You can eat and drink in the pub or at your tent.