Royal British Legion Riders Branch 1000 mile Endurance Ride - David Wicks
The RBLR1000 endurance ride is first and foremost a charity event to raise funds for the Royal British Legion Poppy Appeal. The challenge is to complete one of four 1000 mile routes in 24 hours; once validated, the achievement is recognised as a qualifying ride for membership to the Iron Butt Association UK.
Details of the routes, including satnav files are available from the RBLR100 website
https://www.rblr1000.co.uk/
as well as some comprehensive and invaluable advice from the Iron Butt 'Archive of Wisdom'!
All routes start and finish at Squires Café Bar in Sherburn in Elmet, North Yorkshire. Situated conveniently close to the A1, Squires is something of a bikers' Mecca and definitely worth a visit if you are passing by. I opted for the Northern Anticlockwise route as it covered pretty much most of a touring route I had done the previous summer. I relied on a Garmin Zumo and Basecamp to plan my route in detail and to navigate on the day. I also produced a laminated route card so I had a ready reckoner to monitor my time and distance, and this proved invaluable as the event progressed.
I rode a 2017 Triumph Tiger XCa with 12,000+ miles on the clock. I live in Bath with a 230 mile ride to the start. The ride briefing takes place at 8.00pm on the Friday night so, having left work only an hour or so earlier than normal that afternoon, I was a bit pushed and only just managed to arrive in time. It meant I arrived with less than a full tank of fuel for the next day's start, no evening meal and the prospect of pitching a tent in the rain. Not the best preparation, and definitely an aspect I had overlooked whilst focusing on planning for the main event. The following morning I joined another 127 starters on the start line at 4.30am for a prompt 5.00am start.
I won't go into the all the details of the route I took, but I offer the following:
- The organisation of the event is outstanding. There were dozens of volunteers on hand at Squires for registration, verification, certification and helping riders to dismount at the end!
- Camping at Squires is free for the event and very basic. I arrived back in a thunderstorm, so the admin burden was quite acute and I was pretty damp for most of the weekend. There are local B&Bs but I just didn't fancy getting up even earlier to get to the start on time.
- I bought forward my 12,000 mile service 4 months to ensure my bike was as well prepared as it could be. This included new front and rear tyres – so with 1500 miles on each, I felt very confident even on the wet twisty roads of the Highlands.
- June is not particularly warm and the temperature dropped to 4 degrees as I passed Shap late at night. I wore winter liners and thermal underwear, and carried extra fleece, spare neck tubes, winter gloves and full waterproofs. I took the time to stop and put on the waterproofs whenever I saw rain on the weather radar crossing my route.
- 1000 miles is a long way, especially on an uncomfortable seat. I wore padded Moto Skiveez and sat on an Airhawk Cruiser air cushion, which I now swear by. I tend to get a sore right shoulder on long rides; however, there was nothing much I could do about this other than take paracetamol.
- This isn't a race and isn't treated as such. The key to success is good planning and personal discipline. My approach was to ride purposefully between stops planned for every 90 minutes or so; fuel up and drink water each time; go to the loo if necessary and then get back on with it. I completed the ride by 1.15am, which meant I was in bed for 2.30am, so I got a good 4 hours sleep before the return trip to Bath later that morning.
Do I think this event adheres to the principles of advanced motorcycling? Yes I do. It is not a race and you don't need to break any speed limits to achieve the aim. Riders from a range of advanced rider groups were in evidence, including Blood Bikes, and the standard of motorcycling I witnessed throughout the event was exemplary.
Would I do it again? Yes I would. I realise this is not everyone's idea of fun, but I gained an enormous sense of satisfaction from the challenge and rate it as my highest accomplishment on a motorcycle. I'm hooked and have registered for next year's event and am booked in for the Brit Butt Light Rally next month!
REME Charity Bike Trip to VW Factory in Wolfsburg Germany
In mid-June Bob Fram joined 6 other motorcyclists from the
Royal Electrical and Mechanical Engineers Charity
  on a visit to the VW factory in Wolfsburg Germany.  There is a real connection between REME (the British Army's engineering Corps) and VW as
Major Ivan Hirst REME
was responsible for regenerating the factory after the war.  He was sent to see what he could salvage from the factory in 1945 but saw the potential; you will all recognise how big VW group is today.  He handed the factory back to the control of the Germans on 8 Oct 1949.
Due to the mileage we had to cover we spent most of our time on motorways, but this was not without adventure.  We rode for 3 hours in the worst rain I have ever seen which challenged our sense of humour and our waterproofs – pools of water appeared around us when we stopped for lunch much to the chagrin of the cleaning staff at the service station.  Moreover once in Germany it was amazing to see the speed at which the Germans drive – regular mirror checks and planning overtakes were essential.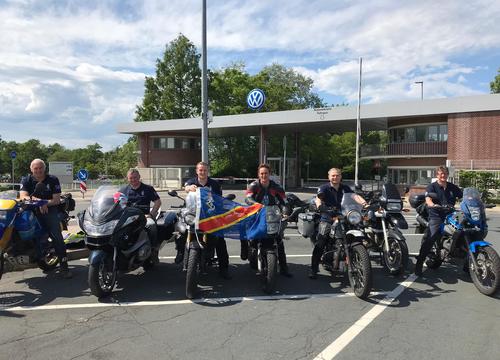 We reached the VW factory on our third day and were hosted by Ulrike Guntsmann the VW archivist.  She talked about the records she keeps (some 9km of shelving) and the frustrations she has as executives clear out their desks when moving on forgetting to archive some of their most important documents!  She proudly showed us a hand written ledger in both German and English which contained the minutes of the first workers council meeting - signed by Major Hirst himself – the brevity of the minutes and the neatness of the writing was a lesson for us all.
We were then shown their room of Remembrance.  A museum in one of the original factory building's air raid shelters dedicated to the forced labour and concentration camp inmates who were used to build vehicles and weapons at the factory during the War.  A humbling and fascinating experience.
We completed our day with a trip round the
Autostadt
in Wolfsburg – a celebration of vehicles and VW group in particular.
Our route home took us via Arnhem to pay our respects to those who lost their lives there in 1944.  One grave has a particular interesting story.  A single Royal Navy Engineer headstone sits amongst the Airborne soldiers and RAF.  During a previous visit to the cemetery I met one of his friends.  This young man had volunteered to stand in for a member of a Dakota crew who was injured on the ground.  This act of support and commitment to the war effort cost his young ma his life and thus he lies with comrades in Arms in this beautiful cemetery in Arnhem.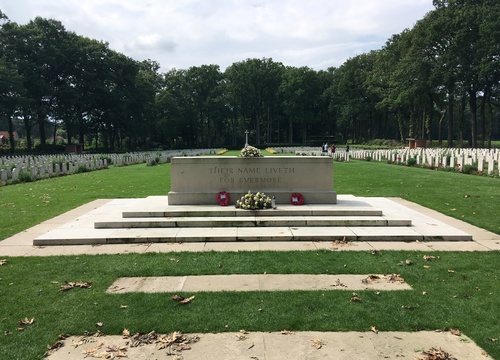 Arriving home early on Sunday morning tired buy happy.  1400 miles in 5 days was a long trip but full of adventure, history and the good company of fellow bikers.
 Mini Bikesafe MOD Lyneham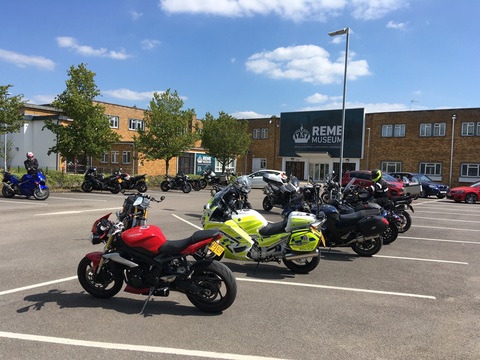 On July 3 a half day Bike safe event was held at MOD Lyneham.  13 soldiers and members of staff from Lyneham attended a presentation on advanced riding by Lee Prince of Wiltshire Police (he is the Bikesafe coordinator) and the observed rides were conducted by RoADAR Wiltshire tutors and Wiltshire and Bath Advanced Motorcyclists observers.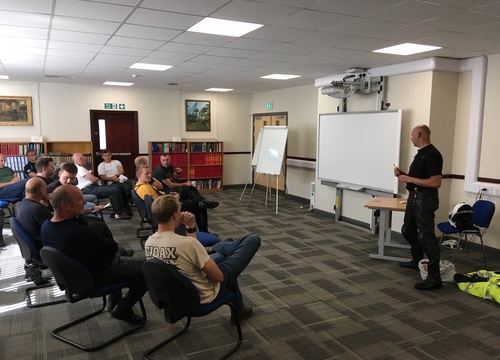 We were blessed with fantastic weather and all took advantage of the excellent roads Wiltshire has to offer.  All who attended really enjoyed the afternoon and all of the attendees benefited from the experience.  This was an excellent recruiting event for both advanced riding groups so we will have made a difference to some.  There is a repeat event on 25 Sep.