Monthly meetings are held on the second Monday of every month at Liddington Village Hall, opposite the church
July 8th - Eddie Ruskin - from stroke survivor to ADI
August - no meeting

---
The next Skill Share is on the 6th July at the Haven Cafe, Firsdown, Salisbury, SP5 1ST at 10:00Hrs.
BikeSafe Lyneham 
3 July 2019

Supporting Police with tutors at MOD Lyneham
Remember that monthly Bike Ride-Outs take place on the 3rd Saturday of every month. Check the Forum for details
Do you have a topic you would like discussed, or know of an interesting speaker?  Please contact Les Brown!
Congratulations to the following members who have passed their Advanced Tests recently:
No tests in June
Please welcome the following new members to the Group
Alexander Thomson (Bike)
Matthew Chaloner (Bike)

Nigel Jameson (Car)
Don't forget that we have a range of clothing available to purchase. 
We also offer a range of books, such as Roadcraft, Motorcycle Roadcraft and the Highway Code, and these are available at discounted prices.

For more information visit the Merchandise page of our web site at www.wiltshireroadar.co.uk.
We are always looking for more articles, ideas and news for the newsletter. Have you been somewhere interesting recently that would make a good story? If you attend any group events then take a camera and send us your pictures!

Please forward all contributions to newsletter@wiltshireroadar.co.uk
We're now on
Facebook
AND
Twitter!
Speaker - Air Vests Part 2 - Lee Lowry
Helite – Lee last visited the group in October 2017! 
Lee's talk this time was to update us on new developments as well as to review what Helite airbags can do for the wearer.
Helite is a French company established in 2002 and is very well known all over Europe and worldwide now for Body Trauma protection being used by many of the emergency service motorcyclists and is mandatory in national cross country riding.
Air Vests is the UK distributor of Helite since 2012. Over the last few years the public sector has started using these air vests and they are now being worn by eleven police forces, the whole of the London Ambulance Service, Cheshire Fire Brigade and a number of Blood Bikers who receive an extra discount.  Since 2018 it is compulsory to wear an airbag in MotoGP.
Every year, Air Vests has a new marketing strap line – for 2019, the line is "no longer in the minority" reflecting the increase in popularity of wearin an airvest.
The "turtle" vest is worn over the top of the usual motorcycle jacket, and they are designed to take account of the back protection plates in some jackets.   They come High Viz or black and are size adjustable.  It is important that the correct size is worn as the inflated jacket protects vital organs, kidneys, spine, neck, collarbone, heart, ribs, liver and cocyx area. The Mk2 turtle vest hides the CO2 cannister from view as well as incorporating other developments such as a soft collar.
Other vests are integrated into a range of jackets; there are tourer jackets, leather jackets and a leather vest for those Harley riders!
The airvest is attached to the motorbike frame by a lanyard which discharges the CO2 canister after 30/35kg pull so it will not inflate if you forget to unclip before dismounting.  We were given a demonstration of the inflation and it is extremely impressive, being completely inflated within 100 milliseconds, it then gently deflates.
Vests have to be serviced every 2 years at a cost of £55.
The vest is re-usable and we were given a demonstration on replacing the canister for future use.  The used canister is to be disposed of as it is not re-useable.  A replacement cannister costs £20.
Prices start from around £525 for a standard Turtle Mk2 vest to £800 for a leather jacket with the vest built in.  RoADAR members are given a 10% discount, plus a further 5% discount on the night which was taken advantage of by several members of the audience!
Thanks again Lee for an interesting talk.
Have you been up to anything to do with Riding or Driving lately? If so, then please let us know as we would love to include it here; photos would be great too!

Iron Butt Ride - the Long Way Up! All in the name of charity!

Two members of the group, Peter Genet and Stuart Gore, spent many "happy" hours completing just over 1,000 miles riding from Chiseldon, down to Land's End and all the way up to John O'Groats, with the aim of raising funds for two charities, RAF Benevolent Fund and Lights for Learning.
We did it! We rode from Chiseldon down to Land's End all the way to John O'Groats in under 24 hours with 30 minutes to spare – total mileage of around 1,100!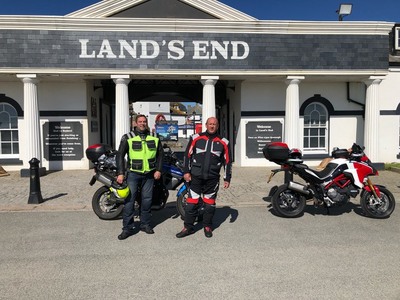 Stuart and Peter at Land's End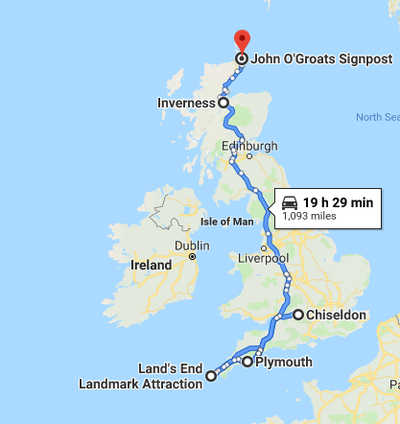 The route starting from Chiseldon Service station, to Land's End all the way to John O'Groats.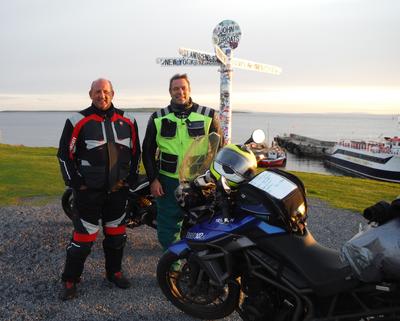 Our orginal route was to take the A303 down to Exeter to avoid motorway riding, but being the longest day and the summer solstice, Stonehenge and Glastonbuty were heaving with druids! So, the alternative had to be the motorways.
Plenty of stops for fuel and sustenance were taken. We even had to stop to put on extra layers for warmth as it was very cold way up north!
Stopping for photos at John O'Groats, we then turned around and headed home again, totalling 1,750 miles in approx 42 hours!
Never again! Unless..........
Chairman's Message

Whilst we all start to enjoy the long evenings and warmer weather please remember we are not too far away from the Annual General Meeting in October.  We will need to vote in the Committee and others who hold positions within the Group.  You will see from the Geek's corner below we are currently only six on the Committee and we need some more people with fresh ideas.  The majority of the Committee are Bike members and we need some more Car members to help us identify the best ways to develop the Goup for all (we are agnostic but a broader mix well be of benefit).
Please look hard to see if there is some time you can give to help the Group improve and achieve our objective of improving road safety.
We particularly need a Secretary. 
T
he commitment is not huge  - a few hours per month is all that is needed; mostly supporting meetings, taking minutes and acting as one of the points of  contact for the Group.There is no need to wait for the AGM as we will welcome anyone at anytime

I wish you all a fantastic and safe summer and clear, smooth and twisty roads.

Any questions please ask the  Secretary or  Chairman.
C
alne Bike Meet - Help required on Saturday 27 July

We have a stand at the Calne Bike meet on 27 July to promote the Group.  The Chairman will be there all day but we need volunteers to help with the stand througout the day- from about 0800 - 1600.  Please come along and do what you can - you do not have to be there all day as any suport is welcome.  This is not restricted to Bikers either as there are plenty of car drivers who come and chat.  Please do not leave this to someone else but come and help promote the Group.  Please let the Chairman know your availability.
New Regional coordinator – Martin Powell
M

artin Powell, retired from the police force after 32 years will be joining the RoSPA Advanced Drivers and Riders Team as Regional Coordinator (replacing Richard Howes) Martin is also a RoADAR Examiner.
As well as all categories of vehicles,  Martin is incredibly passionate about motorcycles,  taking part in motorcycle road racing for the past 30 years including the Manx Grand Prix in the Isle of Man and still has a strong passion for short circuit racing, trials and moto cross.
Martin is incredibly enthusiastic and ready to assist and encourage safer use of the roads and to promote RoADAR tutoring and support the groups
We will be inviting Martin to come along to our group meeting.
Skillshare  - Please promote

Skillshare will take place in 2 locations again this year.   3 August and 5 October at the 3 trees Farm Shop in Chiseldon and 6 July and 7 September at the Haven Cafe near Salisbury. 
All Members please do your best to advertise this; we did not get the message out well last year and turn out was poor. A concerted effort from us all to promote the group and this FREE skills session will help to boost our profile, so ask your family, friends and work colleagues to come and have a go.  Details and the ability to book are on the website.
Grateful if all tutors look to see if they can come and help  - without you it simply will not work.
Geeks Corner - How Many Are we?
Membership overall


59


Bike Members
71

Dual membership
There are
6 committee members (5 bikers, 1 car)

7 Lifetime members

Committee minutes 
These are available from the Group Secretary if any member wishes to see them. If you are interested in reading the minutes, then please send a mail to the Group Secretary whom will promptly forward them onto you.
Forum
Please could all Members use the Forum on the Website which can be used for any purpose but particularly coordinating events, hints, tips and general conversation.  It is easy to register on the website so please do log on and chat away.
Test results 
Reminder to let the Membership Secretary and your tutor know when you have taken your Advanced Driving/Riding Test and result. This is so our database is kept up to date; there is no need or pressure at all to have the result published on the website or in this newsletter if you wish to keep your result confidential.
RoADAR Head Office facebook Page