Monthly meetings are held on the second Monday of every month at Liddington Village Hall, opposite the church
9 Sep - Dave Marshall from UltimateEar - bespoke hearing protection

14 Oct - AGM followed by  Gavin Mills an engineer from Thatcham - Automation /Assitance
11 Nov - Richard Bayliffe  - Experiences of a TT Marshall
9 Dec - Mark Tunstall - Oils and Lubrication

---
The next Skill Share is on the 7th Sep at the Haven Cafe, Firsdown, Salisbury, SP5 1ST at 10:00Hrs.
BikeSafe Devizes
1 Sep 19 - promoting the Group
17 September - Technical Talk
Gloucestershire RoADAR group -

"You be the Judge - Next Case" - see Training section for more details.

BikeSafe Lyneham 
25 Sep 2019

Supporting Police with tutors at MOD Lyneham
Motorcycle Handling Day
Landsdown North Playing fields Car Park  - BA1 9BJ
Remember that monthly Bike Ride-Outs take place on the 3rd Saturday of every month. Check the Forum for details
Do you have a topic you would like discussed, or know of an interesting speaker?  Please contact Les Brown!
Congratulations to the following members who have passed their Advanced Tests recently:
Terry Brown - Bike Silver
- Tutor David Wicks

Please welcome the following new members to the Group
None in August
Don't forget that we have a range of clothing available to purchase. 
We also offer a range of books, such as Roadcraft, Motorcycle Roadcraft and the Highway Code, and these are available at discounted prices.

For more information visit the Merchandise page of our web site at www.wiltshireroadar.co.uk.
We are always looking for more articles, ideas and news for the newsletter. Have you been somewhere interesting recently that would make a good story? If you attend any group events then take a camera and send us your pictures!

Please forward all contributions to newsletter@wiltshireroadar.co.uk
We're now on
Facebook
AND
Twitter!
Please remember our October meeting is also the Annual General Meeting.  This gives you an opportunity to hear what we have all been up to and to influence what we will do in the next 12 months.  
We also need to vote in the Committee and others who hold positions within the Group.   Currently we are six on the Committee, with only one car member; we need some more people with fresh ideas to help identify the best ways to develop the Goup for all (we are discipline agnostic but a broader mix will be of benefit).
Please look hard to see if there is some time you can give to help the Group improve and achieve our objective of improving road safety.
We particularly need a Secretary. 
T
he commitment is not huge  - a few hours per month is all that is needed; mostly supporting meetings, taking minutes and acting as one of the points of  contact for the Group.There is no need to wait for the AGM as we will welcome anyone at anytime

Any questions please ask the  Secretary or  Chairman.
Have you been up to anything to do with Riding or Driving lately? If so, then please let us know as we would love to include it here; photos would be great too!

August Ride out - lead by Stuart Gore

A half day ride that turned into almost a full day! Starting from Cirencester, we headed in the direction of the Cotwsolds, along to the Caffeine & Machine resting place near Eddington. The route took in the in-famous Fish Hill which gave us a chance to open the throttle a bit, then onto Moreton-in-Marsh, up the Fosse Way only turning left to arrive for lunch at the Caffeine & Machine pub.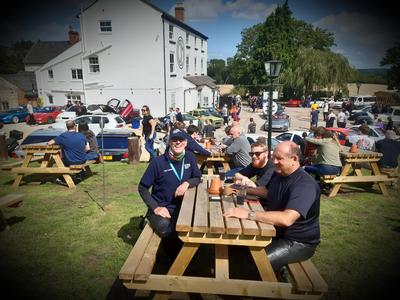 The day turned into a longer than planned ride due to there being an incident along the Fosse Way meaning we had to take evasive action and find an alternative route home. So, splitting into two teams, Mark and I headed home from Winchcombe via Cheltenham; whilst Stuart and Sam headed back their own way.

Thanks Stuart for organising a great day out! Looking forward to the next one in September.
Qualifying for the British MotoGP at Silverstone
Mark Sealey and Bob Fram spent a day at the Qualifying of the British MotoGP at Silverstone on 24 Aug.  Through a friend we had a tour of the Redbull KTM team garage which was a highlight of the day.  Sadly the only photograph we were able to take is the one here as the two other bikes in the garage were in a state of undress and KTM wanted to keep some of their secrets to themselves.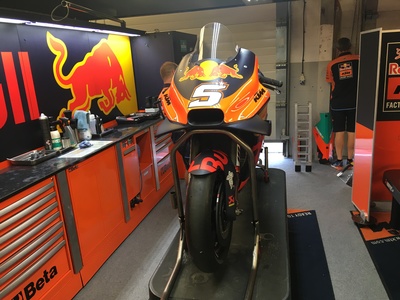 The garage was immaculate as you would expect and it must be nice to work on a bike which is not covered in 1000s of miles of road dirt and general detritus. The bikes are built for speed and ease of maintenance – a gearbox was exchanged in the 10 minutes we were in the garage.  The ECU was in the nose of the bike and the one we saw had at least 15 connections – there is a host of electronic aids on the bike which can be tuned to each corner on the circuit.  A few facts about the bikes:


They have 9 engines for the season for 2 bikes (engines last about 1500kms).  If they have to use another engine then they will start the race from the back of the grid.

Engines produce 260 BHP

0 - 60 mph in about 2.6 seconds – top speed in excess of 200mph

The bikes use seamless Gearboxes on which the rider cannot select neutral with the foot lever (to prevent accidental selection in a race) so there is a lever on the handlebar to engage neutral.

Other switches on the handlebars include – engine mode selection (a choice of 3 modes available to the rider), pit lane speed limiter, launch control

The dash shows engine revs and temperature, engine mode selection, lap time, gear and the pits are able to send text messages to the rider (no mention of the rider texting back mid race though).  There is no pit to bike radio

Fuel tank is under the seat and comes out as a sealed unit - FIM check fuel tanks as the maximum capacity is 22 Litres.

KTM still use a steel trellis frame

KTM budget is 40 Million Euros to run 2 riders in MotoGP.
A fascinating insight into the MotoGP garage which left us hungry for more information but the tour was over all too quickly.  A great day for motorcycle nerds and speed freaks.  We also met some interesting people in the Redbull Energy station including Lyndon Poskitt who is a genuinely nice bloke.
Update from Regional coordinator – Martin Powell
Welcome
I hope you are all enjoying the summer weather and getting out and about in a safe manner?
Last month I attended the Llandovery motorbike show ,It was a relatively small event but it was a pleasant ride and upon arrival there was a lot of motorcycle exhibits to keep me interested for several hours. Whilst there I visited the south Wales ROSPA stand and received a very warm welcome. They were putting on slow speed riding demonstrations in the event arena and promoting themselves and rospa in a very professional manner. I am sure they will have signed up some new members from this event.
Training
ROADAR have updated the Diploma motorcycle course, this is a 5 day course which takes place around the country at various dates. Applicants must be a gold test holder and have a good knowledge of both Roadcraft and the Highway code. Further details can be found on the ROSPA website.
I am a strong believer that training is essential to becoming a safer rider, training must always be good training and I am sure Rospa gives this. I have been doing a little research and have been shocked at some of the private company's advice, so please be careful when seeking advice.
The sun is currently shinning so I am off for a short ride on my bike.
Please contact me if you think I can be of any assistance
Skillshare  - Please promote

Our last 2 Skillshare sessions area as follows;   
7 September at the Haven Cafe near Salisbury

5 October at the 3 trees Farm Shop in Chiseldon.

All Members please do your best to advertise this; we did not get the message out well last year and turn out was poor. A concerted effort from us all to promote the group and this FREE skills session will help to boost our profile, so ask your family, friends and work colleagues to come and have a go.  Details and the ability to book are on the website.
Grateful if all tutors look to see if they can come and help  - without you it simply will not work.
Geeks Corner - When did our members Join

We have the following number of joiners from each year as listed...
1997 - 2
1990 - 2
2001 - 1
2003 - 1
2004 - 2
2005 - 1
2006 - 1
2009 - 1
2010 - 2
2011 - 4
2012 - 8
2013 - 16 (new database created this year. suspect 5 new joins, 11 old members copied over)
2014 - 5
2015 - 8
2016 - 4
2017 - 22
2018 - 29
2019 - 29 (so far)

Invite from Gloucestershire group - Tuesday 17 September
Details below of a forthcoming Technical Talk to which Wilts RoADAR  members are welcome:
"You be the Judge - Next Case"
Tue 17 Sep 19 at 19:30 - 21:00,   Gloucester South Fire Station Community Room SkillZONE Tuffley Lane Gloucester GL4 0AS
Paul Crabtree, Gloucestershire Area RoADAR Examiner, returns with another thought provoking accident investigation exercise. This style of interactive talk was extremely well received when Paul joined us last year. Suitable for all. Please bring a notebook and pen. As usual refreshments will be available. Look forward to seeing you there.
Motorcyclists - Machine Handling Skills Day Sat 28 Sep.
WABAM are hosting a  FREE machine handling day at Landsdown North Playing fields Car Park  - BA1 9BJ - details below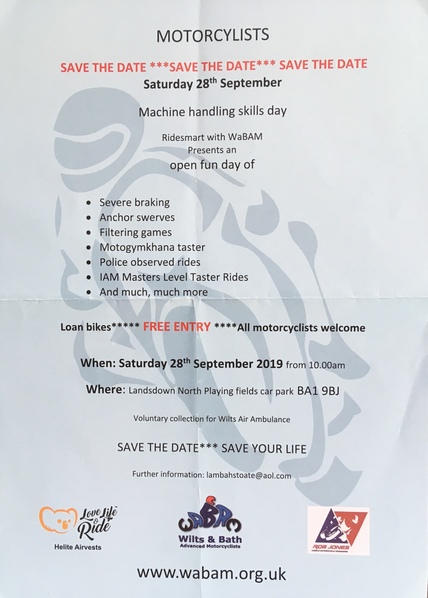 Committee minutes 
These are available from the Group Secretary if any member wishes to see them. If you are interested in reading the minutes, then please send a mail to the Group Secretary whom will promptly forward them onto you.
Forum
Please could all Members use the Forum on the Website which can be used for any purpose but particularly coordinating events, hints, tips and general conversation.  It is easy to register on the website so please do log on and chat away.
Test results 
Reminder to let the Membership Secretary and your tutor know when you have taken your Advanced Driving/Riding Test and result. This is so our database is kept up to date; there is no need or pressure at all to have the result published on the website or in this newsletter if you wish to keep your result confidential.
RoADAR Head Office facebook Page