Our monthly group ride out saw four of us depart from McDonalds in Cirencester, heading for a decent cuppa at the 'H' café in Berinsfield, on the Oxford road by Dorchester.
Ruth, Jane, Neil and Peter left promptly at 9.30 on an overcast Saturday morning to wend our way through to Bibury, Coln St Aldwyn, Lechlade, Kelmscott, Standlake, through Abingdon and onto the H café. Returning via Wantage and Lambourn through to Aldbourne, with the group splitting up at Liddington.
Remember Liddington? This was where the group used to meet before COVID! Happy days!!
Along this route, we had the chance to ride some classic roads with nice easy bends as well as some slightly narrow lanes, but not too narrow thankfully.
We stopped off for a photo opportunity in Bibury overlooking Arlington Row in the background. Then off to the H café via some very nice Cotswold villages, though not too chocolate boxy.  Speeds were great with us all keeping together.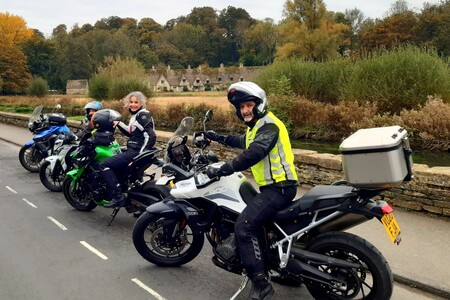 The Team at Bibury
I must admit I was concerned about our final stop at the H café as this is a very popular biker's café, though on the day it was relatively quiet so getting our teas and coffees was quite painless. I did take my own, just in case.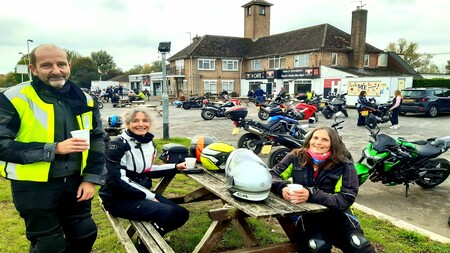 Coffee at H Cafe
After a decent break, we went back slightly the way we came, turning off to head to Wantage. This time we did go through some chocolate box villages – ok, so I'm a little envious. Then we got to Wantage with all thoughts of chocolate boxes long forgotten – not having a go at Wantage, I like the place. Its got a great central market square which is typical of market towns. Well worth a visit.
From Wantage we followed signs to Ashbury, but I took an earlier turn heading to Lambourn missing the interesting valley! Then, we pootled on over the top of the M4 towards Aldbourne and onto Liddington.
Overall, a great morning's ride slightly over the two hours, but we did have a good break in between. No speed limits were harmed during this ride!
Thanks to Ruth, Jane and Neil for your company.
Looking forward to the next one.
Peter